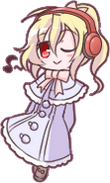 The soundtrack for 100% Orange Juice! is almost entirely comprised of royalty-free music from a large number of artists who create and provide such music.
Of all the tracks featured in 100% Orange Juice!, only a few were specifically composed for the game: Kai's Theme, Final Stage 1, and Ultimate Weapon Girl. These tracks were composed by DEKU, a trance artist who also composed the soundtracks for SUGURI, Acceleration of SUGURI, Sora, and Acceleration of SUGURI 2.
As a result of primarily featuring royalty-free music, 100% Orange Juice!'s soundtrack cannot be sold on any commercial platform by itself. However, Ultimate Weapon Girl is available for purchase as DLC 22
.
The complete list of music is listed below. Unlike the looped soundtrack edits featured in-game, these are the complete, unabridged tracks.
Tracks
[
]
Trivia
[
]
Kai had a different theme in the Beta version of 100% Orange Juice!. The original theme was "Fair Wind" from TAM Music Factory, which can be heard here.
The royalty-free tracks used in the game are usually selected by Orange_Juice. However, the themes for Field Intro: Beginner Town (Winter) and The Harbinger were selected by Fruitbat developer Sora.[3]
The Harbinger's theme was almost chosen to be "Battle with the Devil" from Akito Imagara Orchestra, which can be heard here.[4]
In early versions of the game, the majority of the game's tracks were not edited to allow for looping. As a result, whenever one of those tracks stopped playing, silence would play for a few seconds, followed by the track being replayed.
Prior to Version 1.15, the NPC characters did not have their own music themes; when leveling up, the game would play the themes of other base game characters instead.

Chicken and Store Manager used QP's theme.
Robo Ball used Hime's theme.
Seagull used Peat's theme.
Shifu Robot used Suguri's theme.
Flying Castle used Marc's theme.

The non-playable monster units featured in the Wanderers campaign do not have their own themes; when leveling up, the game plays Seagull's theme instead.
References
[
]
External Links
[
]