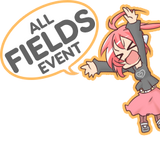 The All Fields Event is one of the four minor events that may run at any time of year. For the duration of the event, all fields temporarily become available to play, even if the player has not unlocked them. The main menu also features a unique banner when the event is active.
Overview
[
]
During the All Fields Event, the player can select any field when creating a single-player or online match, even if the field has not been unlocked.
Field unlock conditions still function normally during the event. Once the event ends, the player's field selection reverts to unlocked fields only. Campaign episodes have preset fields, and are thus unaffected by the event.
Previous Event Dates
[
]
Wiki note: The dates listed below are gathered directly from Steam's Web API, which reports dates in UTC. No adjustments have been made except for the omission of false positives.
References
[
]
Events
2022
2021
2020
2019
2018
2017
2016
2015
2014