Beach Party Campaign
Snack time~ Snack time~ What does Mimyuu have for a snack today~
Ooh, a fish sausage! It's one of Mimyuu's favorites, y'all!
See how plump it looks! Gotta be so good! Let Mimyuu take a big bite of yo-...
Naaah! That's Mimyuu's fish sausaaaage!!
*Sob*... You stupid bird... You won't get away with this!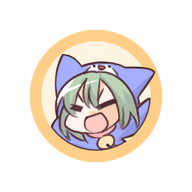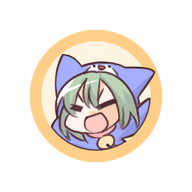 Hmph... to quote someone, "Mr. Seagull, I'm so sorry!"
(Blasted, is this how my life ends?)
(Man, if I'd known, I would've gone for real fish instead of that cheap fish sausage. I'd have eaten my fill of fish...)
(Do you desire... power?)
(Do you desire power that allows you to eat up all the fish in the sea?)
(Are you saying... you can give me that kind of power?)
(Should you truly wish for it.)
(Yeah, I want it. Give me that power! The power that I can dominate the sea with!)
(Very well. I shall grant it to you.)
(Strength's flooding into me...!)
Huh? I-It's an earthquake. What the heck!
---
Yes it is, Sis. This is the sea.
Fufu, beautiful, isn't it?
Yes. I'm getting excited.
That makes it worth taking you all the way out here.
Let's go. I want to get in the water.
Sure. I think I'll take a little swim, too, and...
Hold on a second, Sis, Suguri. You two are not thinking of getting in the water in those outfits, are you?
Yes, there is no problem. This is waterproof.
But don't you think we should get the most out of this beach trip?
It's summer, and we're on the beach, you know?
What do you two think of changing into swimsuits?
Don't worry. I brought them for you.
I want to see you two in them, why else?
But, you know, I don't really need to wear stuff like th-...
Even though I went through so much trouble to get them for you two?
Do you have any idea how much time I spent picking out these two perfect swimsuits for you and Sis?
Suguri, could it be you are embarrassed to wear a swimsuit?
Oh, dear, Suguri, is that it? After living for over ten thousand years, you still find it embarrassing to wear a swimsuit?
It doesn't matter how long I've been living! I'd rather you compliment me that I still feel that way after the ten thousand years.
So, you really are embarrassed.
Ugh... Hime only picks clothes way too cutesy for me.
That's because you're cute, Suguri.
Now, just stop being difficult and put on what I've brought for you.
Suguri, I want to see you in a swimsuit, too.
Hmmaaah. Wait a minute. Look, there's something coming this way.
(I'll eat all the fish. All of it!)
At this rate, that bird's going to destroy the sea.
This beautiful sea will be ruined.
We won't let the seagull do that.
Of course, Sis. We'll stop that seagull.
And then... Suguri is going to put on her swimsuit.
What was with that seagull?
It turned tiny and flew away.
Donald Du-...
By the way, why is Suguri hiding over there?
Suguri, come out here and hang out with us.
I thought I was fine, but I'm starting to feel a little embarrassed again.
There's nothing to be embarrassed about. Like I said before, you're such a cutie.
When you say that, it's just more embarrassing...
Even though you're ten thousand years old?
Fufufu. The seagull stole a lot of our time, and the sun is almost set. The sea is waiting, so let's hurry!
Fine, I give in. I'll just have fun with you two.