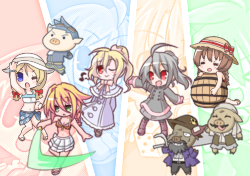 Costumes (not to be confused with accessories such as the
Halloween Costume '17) are unique cosmetic items for the player's character. With this option, the player can completely change the in-game model of the character they are using.
While similar to accessories, costumes are not a cosmetic item in the traditional sense. Costumes are a new character model that the player can select on the bottom left of the cosmetic customization screen. The player can then apply colors and accessories as desired to the new version of the character. All poses, colors, hair colors, and accessories that the player has previously unlocked will carry over to the new version if they are available. However, most costumes have a very limited range of accessories and colors available, with an "X" appearing over most of the other cosmetics. Costumes are by far the rarest cosmetic, with only a few specific characters possessing them.
Costumes cannot be purchased in the shop or unlocked with either crates or mystery bags. They can only be unlocked either through a DLC or special event.
List of Costumes
Non Seasonal: The costume is available to unlock at any time of year.
Seasonal: The costume is only available to unlock during certain seasonal events.