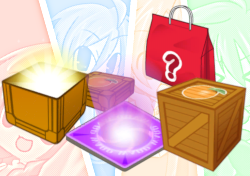 Crates are loot boxes that can be purchased from the in-game shop using
Oranges. Each crate contains a different mix of cosmetics items such as unit colors, hair colors, accessories, homemarks, poses, and dice. There is also one crate in which the player can unlock characters.
Each crate has a different price, item drop rate, and selection of items within it. Upon purchase, the player will receive a single random item for a random character. The player cannot receive duplicates of an item they already own, and also cannot receive any cosmetics for unowned DLC or Bonus characters. If all items have been unlocked within a specific crate's reward pool, the crate will become Sold Out and will no longer be purchasable. However, if more cosmetics are added to a crate's reward pool through updates, the crate will become available to purchase again.
List of Crates
Crate
Name
Price
Contents

Regular Crate
30

94% chance of pose
5% chance of crate-exclusive dice
1% chance of crate-exclusive homemark

Premium Crate
40

Mystery Bag
(See page for full details)
30

Character Crate
100

100% chance to unlock a random base game character
(Does not include playable enemies or hidden characters)
Crate-Exclusive Collectibles
A small number of collectibles are exclusive to crates, and cannot be unlocked through any other means.
Update History