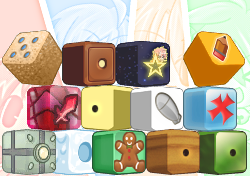 Dice are optional cosmetic items for the player's dice. With this option, the player can change the appearance of their dice in-game. The player can change the appearance of the dice by either selecting their dice before a match or setting their default dice on their player avatar screen.
Upon file creation, the player will automatically receive the default dice and will have the option to purchase any of the starting character dice in the shop. A wide assortment of dice are available for the player to unlock from crates, while some others have specific unlock conditions for the player to fulfill. Many dice have also been introduced during events, with some becoming available in the mystery bag, while others have remained locked to the specific event. It is very common for at least one dice to be added to the game each event.
List of Dice
Non Seasonal: The dice is available to unlock at any time of year (not including the Mystery Bag).
Seasonal: The dice is only available to unlock during certain seasonal events, or from the Mystery Bag.