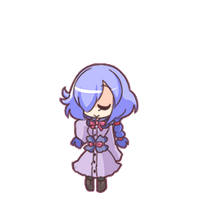 Girl Power Campaign
Girl Power Episode 1 - Beginning

Hey, Repa.
You look like something's bothering you. What's up?
...Here comes the noisy one.
Huh? Noisy?
Are you praising me?
...*Sigh*.
I think you should learn some self-awareness.
Being full of energy is my charm point.
That's not something you're supposed to say about yourself.
Anyway, back to the original topic...
You look troubled. What is it? Maybe I can help you out.
It's okay. I'm fine...
Just leave me alone, please...
Come on, don't be so hard on me...
As fellow magical girls, we should be nice to each other.
I really want to up my Girl Power together with youuu.
Pweaaase. I've got nothing to do...
*Sigh*. You just want to escape boredom, huh... But on second thought... Perhaps you can actually help me. Miu, you may give me a hand.
Sure, of course! I can give you a hand! Yes! Okay!
What will it be? A date? Holding hands? Or perhaps a K-I-S-S?
That's not what I meant...
Get your face away from mine.
Ehehe, I'm just kidding around.
So, what do you need me to do for you?
Play a little game with me.
It's called a board game.
I borrowed it from the Forest Witch.
She explained that it's more fun to play it with other people...
Hence, I'll grant you the privilege of playing it with me.
I see. She has weird taste huh, having stuff like that.
She also told me that the souls of many legendary girls dwell within this game.
They were girls who raised their GP... to a horrifying degree.
That's why...
Playing this game has to give Repa's GP a huge boost, too.
Wow, that sounds like a blast! Let's do it right away!
I see you are as excited as I am.
All right then, let's begin.
Girl Power Episode 2 - Beginning
Boy, this game is quite challenging.
I didn't feel a lot of GP in those two, though.
Open your eyes, Miu.
Individually, those two girls didn't have much GP, yet I could sense an explosive amount of it when they were together.
Is that the rumored CGP (Coupling Girl Power)...?
Are you saying it's an aspect of Girl Power that we've never seen?
That's correct.
CGP... I have a feeling that our GP has also gone up from learning of it.
That's awesome...! I guess we just caught a small glimpse of this game's greatness...
Hey, we should play more!
Of course.
Now, we're moving onto the next match.
Girl Power Episode 3 - Beginning
Howaah... What were those cute creatures exactly?
Do you think they were actually girls?
Repa almost lost her mind, too.
They were extremely cute...
Although, that cuteness didn't really feel like Girl Power.
Cuteness... It is something required to improve one's GP.
An excess of cuteness, however, takes its owner somewhere beyond the concept of a "girl."
OverCute, huh...
We must be careful not to let it happen to us.
This game seems to teach valuable lessons...
That's just sparked my interest in it that much more.
Are you thinking what I'm thinking?
Yes.
Let's get to the next match already.
Girl Power Episode 4 - Beginning
You know what? I can really relate to the girls we just fought.
Energetic girls sure are cute, aren't they?
That's correct. They seemed a type similar to you... But you appear to be overlooking a more important aspect of them.
It's what they were wearing. It was simple yet fluttery.
I couldn't help but feel some sort of ultimate power, as though it were something that has been passed down for hundreds of years.
I agree... That outfit had some kind of aura about it.
Dressing up is one of the basics to raise your GP.
Those costumes made me see a massive potential. They would look gorgeous on any girl out there.
Say, does that mean I would look amazing in one, too?
A terrifying thing to imagine, but I'd wager it's true.
I must say, those outfits were nothing short of miraculous.
Hooray! I've got to have the Forest Witch make one for me.
Oh, not so fast.
I want one too.
Okay then, why don't we go visit her together?
...I'll think about it.
For now, we're playing this game until we get bored to death.
Girl Power Episode 5 - Beginning
Elegance. That's literally the only word I can think of.
I wouldn't be able to pull that off, no matter how I tried...
I'm starting to lose heart.
It'd certainly be impossible for you, Miu.
Each action of those two girls was quiet and graceful.
I bet that's something they've honed since they were small.
I believe you are right.
They are in a place you can only reach by continuous effort ever since you become able to reason.
Uugh. Now I'm starting to feel scared of playing this game...
We've already come too far to quit now.
I know... Feeling down won't help us become cuter!
We're moving on!
Girl Power Episode 6 - Beginning
That felt like a pair of really hardworking girls.
I wasn't expecting to see girls like them at this point.
Hardworking girls sure can be cute.
I agree. I think Rone is just as hardworking, and she looks so cute when she's doing her best.
I would say she mostly considers what she does a hobby...
Anyhow, those girls from earlier felt like they had an inner shine.
I think I know why.
I bet they have a dream.
A dream?
They weren't asleep during the game, though.
That's not the type of dream I'm talking about...
...Jeez, don't make me explain. That would be a little embarrassing.
You got me interested now Miu, so you owe me an explanation.
Come on, let's go to the next stage!
But I need you to explain to me...
Girl Power Episode 7 - Beginning
There were... sweet smells everywhere...
I never saw most of those sweets before in my life.
They seemed to have been made by those girls.
Making sweets, huh... That's one of the Girl Power basics. The better you can make them, the more praise you get, so you should pursue the highest grade sweets!
That's the feeling I got from them.
You are absolutely correct.
I especially loved that wobbly one. It was just amazing.
I believe they called it "pudding."
I already miss it. I want to have a lot more...
Sweets are indeed great.
But imagine what will happen if you eat too many of them.
Well, your tummy will swell and your cheeks will puff up...
Aaaaaaah!?
If you turn round, your GP will decrease dramatically.
Are you saying making sweets not only raises your own GP but doubles as a wicked weapon... that poisons other girls' GP?
*Shiver*... I'm impressed.
We just learned... a new technique of simultaneous defense and offense.
Oh man... I keep being amazed.
That just proves how great the souls living in this game are.
We'd better not make light of the Forest Witch.
I can't wait to see the next girls.
Girl Power Episode 8 - Beginning
I admit neither of their GP was remarkably high, but...
Normal girls must keep growing attractive even after passing the prime of their GP.
That makes sense... Do you think we'll be like them some day?
I wonder.
You know, with us staying young girls forever, and all.
That's right... that's exactly why we're working so hard to raise our GP.
Yeah... But well, this has been a lot of fun, so I'll be fine!
You're so positive...
Now, let's keep playing.
Girl Power Episode 9 - Beginning
We got grown women as our opponents twice in a row.
They appeared as cool as cucumbers.
They must be the kind of people who have a firm grasp on things.
I know that feeling.
But, you know... I felt like there was something different between them and the girls before them.
It's that, isn't it? Sex appeal.
Sex appeal!! Oh man, that's one thing that's totally out of my reach.
I don't have any, either...
You know what? Being a grown-up really is amazing.
I think you're right.
But...
Even if you could actually become a grown-up,
you probably still wouldn't have any sex appeal.
Anyhow, it seems like this game is going to be over soon.
Oh yeah? Okay then, let's get to the end real quick.
Girl Power Final Episode - Beginning
Weird.
That weirdly costumed girl aside,
that nurse lady had a pretty stunning body, but...
Having a nice body is kind of an inborn trait. And if she can maintain it, she should have a huge reserve of GP no matter what guise she's in.
Plus, women with a hot body like hers should be super stylish...
Despite all that...!
Neither of those two girls felt like they had an ounce of GP in them.
They were... a terrifying thing to witness.
I'm certain they must be on the verge of becoming Girls of Death.
G.O.D...! The demise of witches...
But why?
I have no idea.
Although, one thing that's for certain is...
We can't let ourselves become like them, right?
Repa... I'm getting scared.
So am I.
But...
Are we going to keep going?
The game is filling me with dread now. But the next match is the final one... Would you come along with me?
If you've made up your mind, I've got no choice but to do the same!
Alright then, the last...
Oh no!!
What's happening...? We haven't even started yet.
There's an enormous aura...
a raging storm of Girl Power!!
I've never felt Girl Power as strong as this...!
What kind of girls can they be?!
Girl Power Final Episode - Ending
They were nothing but a chunk of raw GP.
Yeah... Just amazing... I don't know what else to say.
What...? Oh, yeah, looks like I am.
Maybe I was moved...
Repa, you're crying too.
This can't be happening.
Tears are streaming from my eyes on their own.
Ahaha. I think these tears prove just how wonderful the girls we met were.
Yes, but not only those two.
Each and every one of the girls that showed up in this game touched my heart in different ways.
Same here.
And there's something I want to tell you.
I agree the girls in this game were all cute and all,
but you're just as cute as them.
You're flattering me...
But that does make me a little happy...
Well, since you said that much...
I must confess that I think you're a little bit cute too.
Alright then, it's time to go.
Miusaki, come with me.
Ah, going to return the game to the Forest Witch?
Girl Power Final Episode - Epilogue
Mmm, it's so good!
I didn't know the forest witch could make pudding.
This is it.
This is the costume I needed.
It even looks nice on Miu.
You look great in it too! So cuuuute!
You two are making so much noise. Jeez.
Yes, and it's rare seeing you two together.
So you two played it, huh?
We did. It was splendid. I'm a major fan now.
You should play it with us.
Sure. Well, we need one more player... Should we get Rone?
Good idea. Let's have a ton of fun!