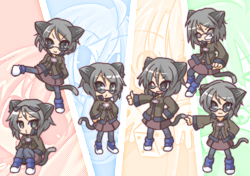 Poses are optional cosmetic items for the player's avatar. Poses are all of the positions the unit makes during the course of the game which includes the default standing sprite, attack sprite, damage sprite, victory sprite, KO sprite, and dice roll sprite.
With these cosmetics, the player can change the appearance of their character avatar that displays on the game's main menu and in the lobby of online matches. The cosmetics are for the avatar only and have no effect on how the player looks during the match, even if adjusted in the deck selection screen before the match begins.
Some characters with multiple forms have double the amount of poses as other characters. In contrast, characters with costumes will have the poses the player has previously unlocked available for use.
Poses are represented in the cosmetics menu with the

icon.
List of Poses
Characters
Number of Poses
Unlock Condition
All characters other than the five listed below
Every character has their default pose unlocked initially, with the other poses being unlocked randomly via the Regular Crate.
Update History
Update history does not include each time poses were added for new characters, as they are added the moment a new character is released.
V2.9.2
now has extra poses with glowy eyes as an unlock.
---
V1.17.3
, , , and now have unique poses for every action.
---
V1.17
Avatar Poses and Homestops can now be customized!
---