Sham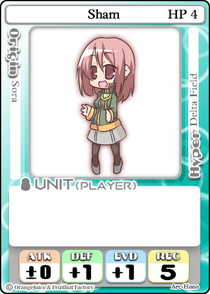 Base Stats
HP
4
Attack
±0
Defense
+1
Evade
+1
Recovery
5
Basic Info
DLC
Voice Actor
Origin
Sora
Theme
Sham (シャム Shamu) is a playable character in 100% Orange Juice!. She was added to the game in DLC 6
alongside Sherry.
Passives
[
]
None.
Overview
[
]
Sham is an average character centered around a relatively powerful Hyper. With a below average health stat and improved defense and evasion stat, Sham is a passive character that will generally stay out of combat with the exception of defensive maneuvers. In the case that Sham is used offensively, her average attack stat makes her relatively unable to fight well, meaning any attacks made on an opponent need to be on low health opponents or during the activation, of Sham's Hyper,
 Delta Field, or with additional battle cards.
The main downsides to Sham, however, are her extreme Hyper reliance and rather frail stats. Without her Hyper, Sham's can be picked on easily if the player consistently rolls poorly for evasion or defense. If the player is unable to successfully draw a Hyper, Sham will be unable to seize control of the opponent's rolls, and thus unable to make a powerful play.
Summary
[
]
Pros

+Powerful Hyper with guaranteed result
+Above average DEF and EVD stat
Cons

-Hyper Reliance
-Below average HP stat/somewhat fragile
-Situational Hyper