Sham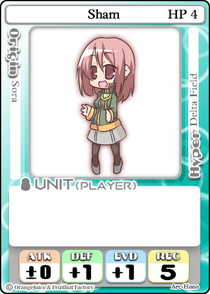 Base Stats
HP
4
ATK
±0
DEF
+1
EVD
+1
REC
5
Basic Info
Origin
Sora
Voice Actor
DLC
Theme
Sham (シャム Shamu) is a playable character in 100% Orange Juice!. She was added to the game in DLC 6
alongside Sherry.
Passives
None.
Overview
Sham is a character with fair defensive stats and a powerful Hyper. Sham features a lowered health stat, and in return has +1 in both DEF and EVD. This should allow Sham to handle
 Encounter panels well and stand a chance against the
 Boss if healthy. With a neutral ATK stat, Sham is not useless if she needs to fight. Although, Sham ideally won't have to engage in combat without cards to assist her.
The downside to Sham, however, is while her stats are good defensively, she doesn't have a direct way to gain the lead, nor are her defensive stats as strong as a character like Fernet. Due to this, Sham relies more on higher rolls -- especially during
 Delta Field -- and on cards in general, in order to succeed.
Summary
Pros

+Powerful Hyper.
+Above average defensive stat line.
Cons

-Neutral ATK stat makes stat line abusable.
-May have to depend on cards or highrolling.
Update History