Boost Card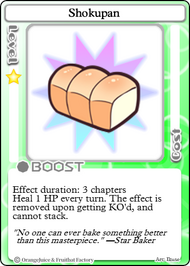 Effect duration: 3 chapters
Heal 1 HP every turn. The effect is removed upon getting KO'd, and cannot stack.
Level
1 ☆
Cost
0 ★
Limit
per Deck
Ikuse
"No one can ever bake something better than this masterpiece." ―Star Baker
Shokupan is a card exclusive to Bounty Hunt Mode.
Effect
Strategy
Update History