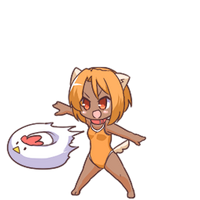 Summer Games Campaign
I can't believe she's acting as giddy as a little child...
But, seeing her that happy makes it well worth having brought her all the way here.
I would have liked to enjoy the beach in a little more serene setting, though.
You know, since I rarely get a chance like this to spend time at the beach with you.
Yeah, we don't usually see the sea from the ground level.
*Sigh*... You can be so...!
You know what? The sea feels much more calm and quiet down here than up there. We don't get assaulted by all those scary seagulls, for one.
I think... you might be wrong about that.
Aargh! What's with you birds!
Oh no. They're attacking her! A-are you okay, QP!?
I'm fiiine! My summer hype makes me invincible! Yaaaaaah!
She seems to be having fun over there. We should enjoy ourselves too.
Okay... I just hope nothing bad will happen to her.
It feels weird, you know? Floating in water. It's completely different from flying in the air.
You always talk about the skies... You know what they call people like you? A workaholic.
It's a good thing to have work to do.
That's not what I meant. What I'm saying is... Why don't you try to have more fun when you're not at work?
I'm having fun right now. Fun with the beach. Fun talking with you.
Sometimes... I just don't get you.
By the way... where did QP go?
I saw her playing with the seagulls a while ago, but I don't hear them now...
Oh, there's a seagull here.
Eek! W-what's wrong with it?
Fu-fu-fu, I wouldn't be so relaxed if I were you.
Because the summertime beach is full of perils!
QP... Wait, what happened to you!? You're insanely tanned!
And what's with all those seagulls around you?!
Ku-ku-ku... They're serving me now!
Listen up, you two! We, the QP Corps, won't let you just chill on the beach in the summer!
If you want your peaceful beach back, you have to hang out with me all I want!
You're not making any sense, QP.
It seems that her summer hype has driven her bonkers.
Now, you guys better get yourselves ready!!
Ueeeeee! I want to play a whole lot more!
Haha, looks like you still have plenty of energy left.
Same... How about some snacks now?
QP, you want to get some snacks with us?
I don't wanna waste even a second! I'm gonna play with the seagulls!
Got it. Okay then, it'll just be the two of us.
All right. That's too bad, though. I brought this just for her.
Aw, sweets sure taste all the sweeter after a work-out.
You're right. Mine tastes better than usual, too.
P-pudding that's better than usual...!?
Fufu. This makes all the time and effort that we spent on QP totally worth it.
Pudding that got better because of me!?
H-hang on! I-I want it, too! Pudding! Puddiiing!
Don't worry, QP. You don't need to hurry! We have some for you too.
She never stops being loud... Well, it's not that I'm saying it's a bad thing.
Yeah, it's been so much fun today!
Fernet, we should make sure to come back here again.