Overview
[
]
It's time to scramble for decorations to trick out the house! Collect Decorations in any game mode to progress in the event and receive festive rewards!
The goal of the event is to collect 80 Decorations from matches to complete the event campaign.
Rule Changes
[
]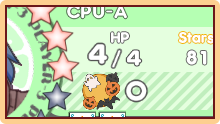 The Tricked Out event features a new game mechanic in the form of collectible decorations. These are a new resource that can be collected through various means during games. Each player's HUD will now feature a decorations section at the bottom which indicates how many decorations are currently held. Up to 4 decorations at a time can be held per game.
Decorations can be collected during games, with the method to acquire them varying based on the game mode.
There are many ways to collect decorations in-game. The primary source of decorations comes with the addition of the new
 Decoration panels that appear on the board. At the start of the game, a number of decoration panels will spawn on the board, with the number of panels dependent on map size. When triggering a decoration panel, the player will gain 1 decoration, and the panel will despawn, turning back into the original panel. A new set of decoration panels will spawn every 5 chapters, starting from Chapter 1. (1, 6, 11, 16, etc.) Decoration panels appear in all game modes.
Each mode also has one additional unique way of collecting decorations during the game. A maximum of 4 decorations per game can be collected from either Decoration panels and/or the mode-specific method.
In Normal Mode, a decoration is earned when landing on another player's home panel.
In Co-op Mode, all players earn a decoration when a minion is KO'd.
In Bounty Hunt Mode, decoration markers may appear on Shops. Stop at a marked Shop to collect a decoration.
CPUs cannot collect decorations, but they will still despawn Decoration panels when triggering them.
The goal of the Tricked Out event is to collect 80 decorations. The player's collection is monitored by the pumpkin icon on the main menu of the game. Any decorations collected during a game will be added to the counter. In addition, more decorations can be earned at the end of the game depending on match placement. A maximum of 8 decorations can be earned per game (up to 4 from in-game collection, and up to 4 from match placement).
In Normal Mode and Bounty Hunt Mode, 4 decorations are earned for 1st place, 3 for 2nd, 2 for 3rd, and 1 for 4th.
In Co-op Mode, end-of-game decorations are based off of boss difficulty: 4 for Hyper, 3 for Extreme, 2 for Normal, and 1 for Casual. No end-of-game decorations are earned if the players lose to the co-op boss.
Any decorations earned can also be spent in the shop to purchase Halloween costumes. Decorations can be earned in either singleplayer or online play. However, there will be a penalty if the player pressed shift or control during a singleplayer game.
Upon completion of collecting all 80 decorations, the player will unlock the second event cutscene and complete the event.
Event Rewards
[
]
The event goal is progressed by earning decorations in-game. After finishing a game, any decorations earned will be added to the player's event total. On the way to the event goal, there are numerous milestones that can be achieved, with rewards being earned upon the completion of each milestone.
This event introduced the
Decorations currency, which is unique to this event. Any Decorations earned at the end of games will contribute to both the event goal as well as being able to be used as currency.
As mentioned in the patch notes of Version 3.9.2,
Halloween Candy is slated to be discontinued and so there is an option in the shop to manually convert any leftover Halloween Candy into either Stars or Oranges. Halloween Costumes from previous events now became purchasable with decorations. Additionally, on December 31, 2021, decorations will be removed from players' inventories and the Halloween section of the shop will be hidden from view.