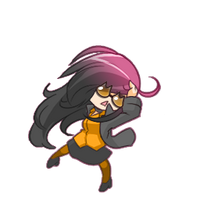 Hey, I go by T-Patch most places, including Steam and in-game on OJ, and by SystemPatch anywhere where usernames don't support the dash. I'm not the best writer in the world, but I have a pretty good grasp of wiki markup and know my way around Photoshop. I'd like to help out anywhere I can, so if there's any issues around the wiki, give me a poke and I'll see if I can tinker around with it.
Goals:
[
]
Upload cleaner images around the wiki, particularly the images for the cards Done!
Add the OJ Music list found on the Steam forums to the wiki It's up!
Look into the 0.5 OJ beta and write up the differences between it and the original 1.0 JP release and english pre-steam releases
Maybe a costume viewer widget? Don't know if it'll be completely possible. Offline WIP version here.