Version 1.27
Version 1.27 was released on June 6th, 2018.
[1]
Nanora! New Challengers Appear - New Event Live!
We're happy to announce that two long-awaited characters from Orange Juice's games have made their way into 100% Orange Juice, in version 1.27 ~ Playground!
Please welcome... Tsih and Tequila!
The Tsih & Tequila Character Pack is now available on Steam with a -10% launch discount. The pack contains Tsih (from Sora), and Tequila (from Flying Red Barrel), who both come with voices included!
---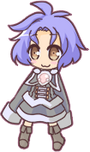 Tsih
Voice: Kabayama Minami
+0/-1/+2, 4 HP, 5 REC
Gain +2 ATK if holding a Gift card.
Hyper (Boost) -
Cost: 10, Level: 2
Effect duration: 3 chapters.
Cannot be challenged to battle or targeted by Boost cards by other players. Effect expires on entering battle.
---
Tequila
Voice: Fujiwara Hikaru, aka Hono
+0/+1/-3, 5 HP, 6 REC
A Pirate Crew Member appears as an enemy unit. Gain +1 ATK for every HP lost during a battle.
Hyper (Event) -
Cost: 20, Level: 3
Set "Flying Pirate" on 2-3 random panels.
Fight a Pirate Crew Member summoned by the player who set this card. The enemy will attack first. No effect on the player who set this card.
Pirate Crew Member
Voice: Narumi Takashi
+1/-1/-1, HP: 2
Opponent loses Lvl x10 stars if defeated. The player who summoned this unit gains the stars. Does not appear as Encounter to the summoner.
---
School Crashers!
New event is now live until July 10! Join an exciting new adventure full of sweat, tears and friendship, written by Hono of Orange Juice, and unlock exclusive new rewards by defeating an unexpected foe in a series of minigames!
---
Other version 1.27 changes
School Crashers! event is now live.
New field, "Sakura Smackdown" is available to play during the event, and can be unlocked permanently as a reward.
Added new panel type,
. Heals 1 HP if stepped on.
Some more UI elements now scale with resolution.
6 new Achievements added for owners of & Character Pack to complete.
Added a button taking the user to the 100% Orange Juice Wiki to the play menu, next to Guide.
Fixes
Fixed an issue where if you did not own Mixed pack and/or Acceleration pack, the numbers in the collection were shown incorrectly.
Fixed a visual bug where players joining mid-game would not see
but the default boss instead.
Balance
ATK is now +1, up from +0, making her base stats identical to normal .
Reference
[
]