Version 1.9.9
Version 1.9.9 was released on October 22nd, 2015.
[1]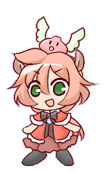 A new playable character, is now available to owners of
200% Mixed Juice!
.
HP: 7
Attack: -1

Defense: -1

Evasion: -1

Passive: When warping from any effect: If player level is odd, gain 3x level in stars. If player level is even, draw a card.
Hyper Card -
 Subspace Tunnel
Level: 1

Cost: Lvl x 5

Effect Duration: Player level. Turn four panels into Warp Move panels and then warp to one of them.
Changes
Changed file formats to considerably reduce the installation size and speed up all load times.
Players can now take control of DLC characters they do not own when joining a game in progress (Achievements still require DLC ownership).*
Added Halloween costumes for new characters added in the past year! 
Fixes
Fixed a bug where rejoining a game quickly after leaving it sometimes caused undesired behavior.
Balance
card is now limited to a maximum of 1 per deck. 
This is a potentially temporary change while we basically evaluate whether this is a direction we can go in.
Unversioned Hotfix 1
An unversioned hotfix was released on October 22nd, 2015.
[2]
Fixes
Fixed a bug that caused all players to return to lobby from deck screen if a spectator left.
Unversioned Hotfix 2
Versioned Hotfix 3
A versioned hotfix was released on October 25th, 2015.
[4]
Fixes
Minor card description fixes
Limited the maximum number of cards you can carry to 10.
References
[
]