Version 2.1
Version 2.1 was released on June 25th, 2019.
[1]
The path to stardom is now open! Become top idols with the new Sora & Sham (Cuties) Character Pack!
The new character pair comes fully voiced and ready to put on a live concert!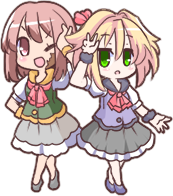 , voiced by Maruyama Miki (Sora) and Fukuyama Saori (Sham)
HP: 4
Attack: ±0
Defense: ±0
Evade: +1
Recovery Value: 5
Can only choose Stars norma. Gain X additional stars from all sources, where X is the number of different Event cards you played. In battle, randomly gain +1 ATK or DEF.
Hyper -

(Boost)
Level: 1
Cost: Level x10★
Go to Live Mode for (your Lvl) turns. Gain MOV -3, can only trigger movement type panels and cannot use cards. Cannot be challenged or be the target of Boost cards. If an opponent ends their turn in 2 panel radius, steal (your Lvl) x5 stars from them. Ends on KO.
---
Prepare to die of cuteness overload! A second DLC has been made available alongside the new unit: 100% Orange Juice - Character Song Pack: Ultimate Weapon Girl is the first official character song pack made exclusively for 100% Orange Juice! It contains the Sham & Sora (Cuties) character song "Ultimate Weapon Girl" in 5 different versions!
Lyrics: Hono
Composition: DEKU
Arrangement: Fukuyama Saori
Vocals: Sora (Maruyama Miki) and Sham (Fukuyama Saori)
---
Changes
A new unit,
is now playable for owners of the Sora & Sham (Cuties) Character Pack.
and now have character and announcer voices for owners of the Sham & Sherry Character Pack.
Sham voiced by Fukuyama Saori
Sherry voiced by Kinugawa Rika
Wiki note: This patch note is a typo; the pack was actually lowered to the price of 580 stars.
Fixes
Fixed an issue with certain texts not showing up in some languages.
Unversioned hotfix 1
An unversioned hotfix was released on June 26th, 2019.
[2]
Fixes
Fixed an issue with the game crashing at the "continue" screen.
Removed some incorrect cosmetic unlocks.

This removed Sunglasses for Cuties being available in the Mystery Bag. However, it did not remove the sunglasses for those who had already obtained them.

Fixed some visuals for
cosmetics.
Fixed one of the shop icons having blank image.
Versioned hotfix 1
A versioned hotfix was released on June 27th, 2019.
[3]
Fixes
Fixed battle healing bringing your HP back down to max if it was higher.
Fixed "Set HP" effects potentially working with
.
Fixed
healing the incorrect amount from out of battle effects.
Versioned hotfix 2
A versioned hotfix was released on June 30th, 2019.
[4]
Fixes
Fixed issue in Co-op where backgrounds would be missing in field select during a field's preview
Fixed Bloodlust achievement counter tracking not resetting when player gets rid of it due to
Fixed "Can Always Go Faster" achievement not being able to be unlocked.
Fixed "Twilight of the Beasts" achievement not tracking healing done in battles.
Fixed players in Live Mode being able to activate
panels.
Fixed BGM playback issues related to
.
Versioned hotfix 3
A versioned hotfix was released on June 30th, 2019.
[5]
Fixes
Fixed an issue where the "Poppoception" achievement only unlocked for the player who set the trap and not everyone in the match.
Fixed an error where
and would have incorrect stats when affected by Poppoformation.
Versioned hotfix 4
A versioned hotfix was released on July 3rd, 2019.
[6]
Fixes
Fixed "Poppoception" achievement having more narrow unlock conditions than was intended. Po!
References
[
]