Version 2.7.1
Version 2.7.1 was released on December 20th, 2019.
[1]
The Old Guardians join the fray! The far future version of series protagonist Suguri, Suguri (46 Billion Years) and the mischievous ship AI, Sumika are now available in 100% Orange Juice - Old Guardian Pack!
Moreover, Kiriko, NoName, Nath, Tomato and Mimyuu have now been updated with character and announcer voices in their respective DLC!
---
Old Guardian Pack
The character pack comes with a new story campaign, the "Old Guardians". It includes:


Voiced by
Hiyamizu Yuuka
, who revisits her role as a Suguri, now with a very different personality!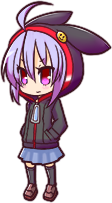 HP: 4
Attack: ±0
Defense: ±0
Evade: +2
Recovery Value: 5
When choosing a damage dealing Boost/Event card to play, you may pay double its cost to double its damage on use.
Hyper -

(Boost)
Add 2 random Boost/Event cards that deal damage to your hand.
---


Voiced by
Kadowaki Mai
, known for her role as Illya in the Fate series.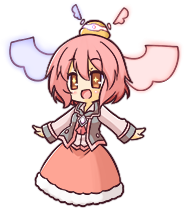 HP: 5
Attack: +1
Defense: -1
Evade: +1
Recovery Value: 5
Hyper -

(Boost)
Add a copy of the two most recent cards in the discard pile that aren't "Reproduction of Records" to your hand. Those cards will be treated as being Level 1 and having no base cost while in your hand.
---
With this update, 5 more DLC characters have been updated with their voices: Kiriko, NoName, Nath, Tomato and Mimyuu!
All existing owners of the DLC will receive the new character and announcer voice for free!
Please note that the price of the updated DLC will be increased by $1 to account for the voices after the current Steam Winter Sale ends, so get yours now!
Everyone's favorite off-kilter nurse Kiriko is brought to life by the famous VTuber Sakura Miko!
The character pack now also unlocks an exclusive Sakura Miko-themed costume for Kiriko for all of its owners!
The notorious thigh-lover NoName has been voiced by the man himself, Fujiwara Hikaru AKA Hono!
The serious but kind "another Ultimate Weapon" Nath has been voiced by Kondou Yui!
The "big sister" of the troublemaking Waruda sisters, Tomato is voiced by Mizusawa Fumie! You may know her for her role as Erika "Cure Marine" Kurumi from Precure.
The little Waruda miscreant Mimyuu, always ready to cause mischief, is voiced by Kita Natsuki!
---
Xmas Wreaths Extended
We hear the complaints from players who expected to be able to still earn Xmas wreaths after the earlier Xmas event re-run! Xmas Wreaths now drop from all games until end of the year (Steam time)! Xmas costumes for new characters have also been added to the Shop!
---
Other Changes
(and ) have been updated with several new voice lines.
Added a speech bubble display for characters in Deck Builder and customization menus.
Changed Starship's boss to be .
Fixed characters not playing their warp voice when landing on warp move panels.
Fixed a graphical bug that would make
's portrait not focus on her face.
Unversioned Hotfix 1
An unversioned hotfix was released on December 20th, 2019.
[2]
Added missing BGMs for
and .
Unversioned Hotfix 2
An unversioned hotfix was released on December 20th, 2019.
[3]
Added missing
, and menu interactions.
Fixed equipped pet appearing in gallery.
Versioned Hotfix 3
A versioned hotfix was released on December 21st, 2019.
[4]
Fixed
doing more damage than intended.
Fixed Girl Power and Crossed Christmases campaign opponents being assigned incorrectly.
Fixed issue with character disappearing when changing cosmetics.
Fixed homemark in unlock popup going outside of the box.
Fixed
cards looking too wide when the card front is hidden.
Adjusted the default length of
's animation.
Made full length animation sequence and voices for
play on a rare occasion.
Changed Old Guardians Episode 9's events to Treasure / Mystery (from Treasure / Playground).
Added missing stats for
and to Game Info.
Unversioned Hotfix 4
An unversioned hotfix was released on December 22nd, 2019.
[5]
Fixed disappearing characters in character select.
Fixed the unit graphic not updating when swapping between
and in Gallery.
References
[
]