Version 2.9.2
Version 2.9.2 was released on April 30th, 2020.
[1]
We have big news to share today: the Wanderer Pack DLC is now available!
---
Wanderer Pack
This character pack adds 2 new characters: Ellie who's looking for her mother, and her mysterious friend Lulu who has lost her memory. The new characters come fully voiced and have their own, 5-episode campaign! The Wanderer Pack includes:


Voiced by
Maruyama Miki
(the voice of Sora, Marie Poppo and Natsumi)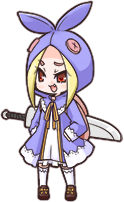 HP: 5
Attack: +1
Defense: ±0
Evade: ±0
Recovery Value: 5
Hyper -

(Boost)
Level: 2
Cost: Level x 10★
Effect Duration: 2 chapters. Gain +X ATK, +Y DEF, and +Z EVD, where X = Your total Norma completed, Y = your number of Wins Norma completed, and Z = your number of Star Norma completed.
---


Voiced by
Aizawa Saya
(who voices Seki Hiromi in The iDOLM@STER: Cinderella Girls)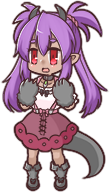 HP: 5
Attack: ±0
Defense: +1
Evade: -1
Recovery Value: 5
Hyper -

(Boost)
Can only be played with 2 HP or less. Gain one of the following effects at random:

-Roll a die and gain the die number x 20 stars.
-Draw 5 cards.
-Heal to full HP and permanently gain +1 ATK, +1 DEF, and +1 EVD. This effect can only trigger once.
With the DLC comes a new "Wanderers" campaign with 5 stages that teaches you more about the characters' origins.
The new DLC is now available with a -10% discount for the first week. 100% Orange Juice and all other DLC are also currently discounted in the Steam Golden Week Sale!
---
Full version 2.9.2 patch notes
General
Ellie and Lulu are now playable for owners of the Wanderer Pack DLC.
7 new achievements added.
Added new field, Scarred Land.
Added new emotes.
and hyper cards now have a special visual effect upon activation.
poses with glowy eyes as an unlock.
now has extra
Added a voice playing when successfully clearing, or missing to clear a Norma.
can now benefit from "gain HP" effects.
Bounty Hunt
Increased EXP, stars, item drops, oranges, and fame rewards by 50% for bounty hunt games.
Players now win 1 fame in Bounty Hunt mode by defeating a player in battle that has more fame than them.
Updated Bounty Hunt field event to guarantee at least 1 spawn of each type of monster hiding spots if possible.
Shop turn-in arrows are now drawn over player units in the Bounty Hunt mode.
Red & Blue Island overheal effect lowered from 4 to 3 in Bounty Hunt mode.
are now affected with the following cards: , , , , , , , .
Fixes
Fixed so players using
correctly take damage if a missile land on them. (Ally mercenaries are excluded.)
Fixed voices in battles not playing if the user has "voice only my character" enabled.
Fixed
battle start shot triggering Haunted Doll's unit effect.
Fixed so Amplify events won't override shop-purchased stat boosts.
Fixed Haunted Doll being able to use
damage-on-evade effect when fighting Repa.
Fixed Mousse voice lines so the text bubbles are reflecting what they're supposed to be.
Improved card text quality.
Fixed co-op cards being included in Bounty Hunt weapon armories.
Fixed the lobby browser Chat button not working.
Versioned hotfix 1
A versioned hotfix was released on April 30th, 2020.
[2]
Fixed wrong Norma clear condition being set for players whenever the game picks one automatically.
effect no longer stacks when playing the card again before a past effect runs out.
Fixed Scarred Land being unlocked in multiplayer lobbies.
Added missing Homemark graphic.
Fixed an issue with poses not being selectable for pigformed chibis.
Fixed
& default extra color being blocked when their special accessories aren't unlocked.
References
[
]